Why does my horse keep getting thrush?
Preventing and treating thrush is important for every horse. First, make sure to provide your horse with regular exercise to maintain a healthy frog. The movement of the hoof through walking or exercise is a benefit because this increases blood flow and circulation to the frog. Second, hoof care is important along with regular farrier visits to maintain a healthy hoof. Third, maintain a clean and dry footing for the horse, also regular cleaning of the stall and turning over of the soil is a benefit.
If you do all these things and your horse gets thrush, your horse may be especially sensitive to thrush and you will need to use Outlaw Thrush Stuff daily until symptoms subside.
The Outlaw Thrush Stuff Product
The Outlaw Thrush Stuff is an antiseptic and astringent which penetrates all areas of the hoof and frog. Once applied, this has a drying effect on V of the frog in the hoof. This works great for the healing process of the frog, is cost effective, and works in wet conditions.
The Outlaw Thrush Stuff product provides treatment for horses with thrush. As an antiseptic this prevents and treats thrush in the infected frogs and bottom of the hoof. As an astringent it dries the affected area of the frog and protects it by stopping recurrence.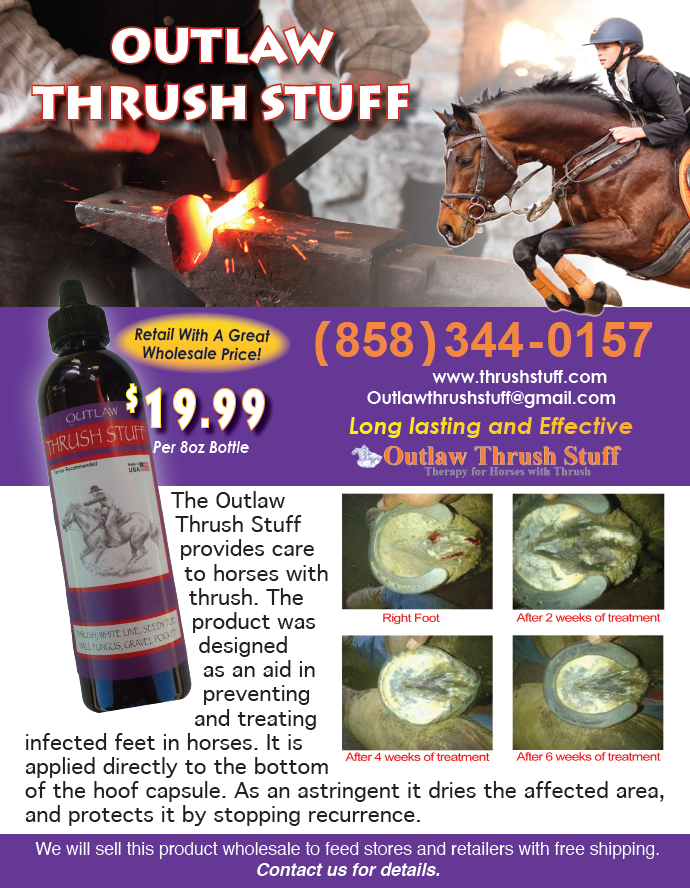 How do you treat thrush in horses?
To treat thrush in horses, the horse should be moved to a dry clean environment. The foot should be thoroughly cleaned out, removing necrotic debris from within the affected V of the frog in the hoof, and then cut down to healthy tissue. This allows the air to reach any remaining damaged tissues, which is good because oxygen aids in treating process. Next, apply a generous amount of Outlaw Thrush Stuff to the V of the frog in the hoof. This should be done daily or as needed. In severe cases some people bandage the hoof along with packing the infected area with cotton after treatment.
What is the best thrush treatment for horses?
Thrush is treated by trimming back the old dead tissue and then treating the area with a solution that is an antiseptic and an astringent to treat infections of the hoof – which our product Outlaw Thrush Stuff does.
Some people say it's okay to use iodine or 50/50 bleach/water – but this is not recommended because it can burn the tissues of the hoof. What is recommended is Outlaw Thrush Stuff which will not burn or aggravate the sensitive tissues of the hoof.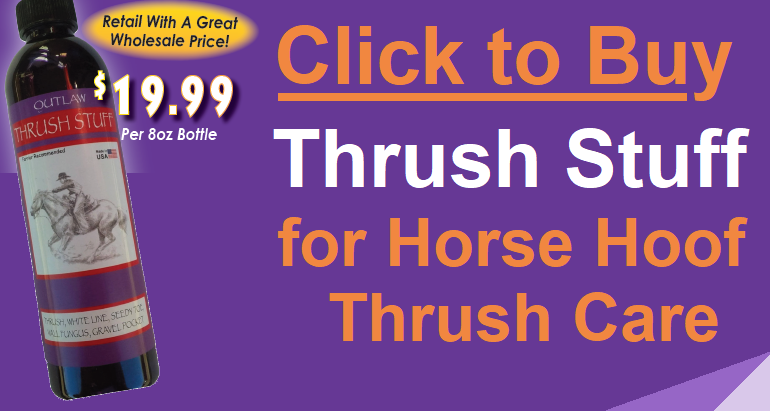 Easy application of Outlaw Thrush Stuff for Horses
Clean infected area of any dirt.
Apply Outlaw Thrush Stuff to affected area.
Repeat daily or as needed.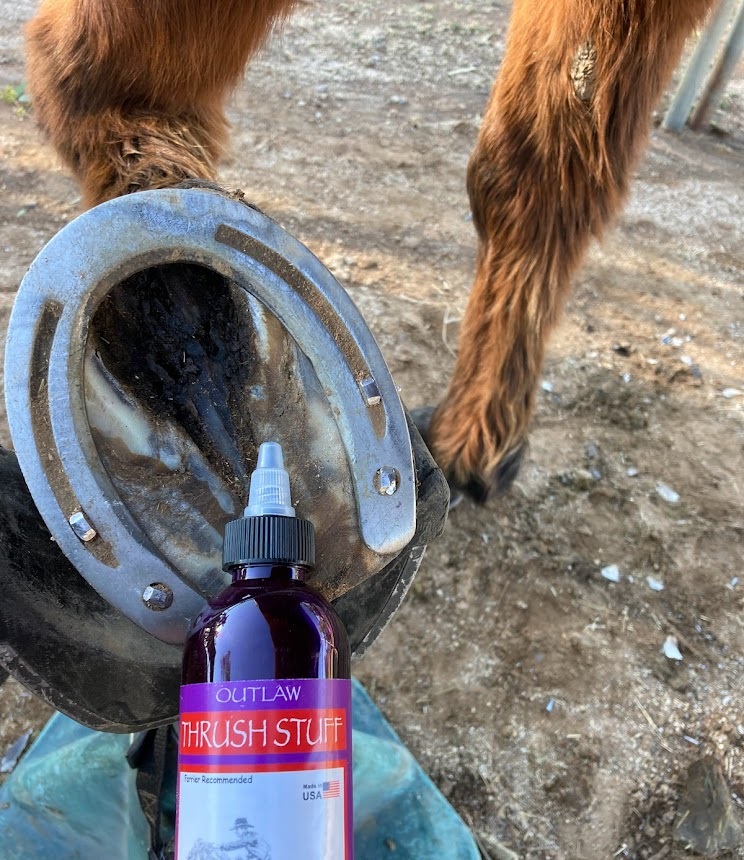 Feed Stores & Retailers
We will sell this product wholesale to feed stores and retailers with free shipping. Contact us for details.